In addition to the pro-business environment, companies come to South Carolina for its advantageous labor climate. We're ranked No. 3 for low labor costs and No. 4 for workforce development programs by Area Development magazine. With low corporate tax rates and competitive wages, SC's job market has consistently outpaced national growth levels.
Stable Workforce
South Carolina is a right-to-work state with a low unionization rate of 2.0%, ranking lowest in the US. The state's unionization rate for the private sector is 1.4%. We have the lowest percentage of total employed workers covered by a collective bargaining agreement of any state in the nation.
Higher Education
More than 164,000 students are enrolled, on a full-time basis, in the state's public and private learning institutions. What's more, South Carolina is home to one of 17 national laboratories.
Regional Workforce Advisors
With a focus on ensuring South Carolina's workforce continues to be one of the best in the nation, a team of 12 Regional Workforce Advisors (RWAs) work to connect the business and education communities to meet industry workforce demands.
Workforce Training with readySC™
For more than 50 years, the SC Technical College System has powered readySC™ which provides well-trained employees to companies investing in South Carolina. The readySC™ program includes recruiting, screening and training as well as a tailored curriculum to fit a company's specific needs.
The South Carolina Technical College System
The South Carolina Technical College System is comprised of 16 community-based technical colleges throughout the state. Home to the readySC™ program, the SC Technical College System serves more than 160,000 students and excels at creating programs that meet the needs of area businesses and industries.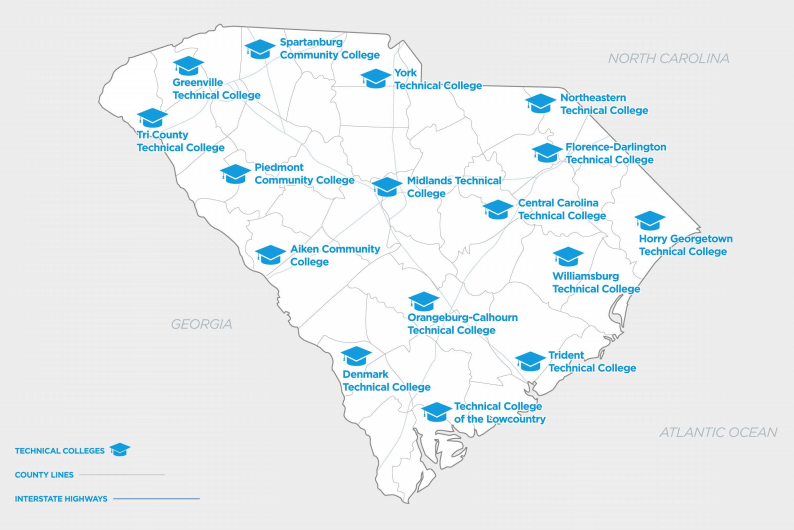 SC Employment Information
The Research Division of SC Commerce provides labor market information including job force data, employment by industry, unemployment, wages, occupational employment, projections, job skills, business locations and population demographics.
Pilot Program — Skills Advancement and Modernization Investments
Spurred by rapidly changing technology, SC Commerce has launched a new pilot program to address the need to support advancing skills for those currently employed with South Carolina companies. Qualifying companies can apply for funding to cover training programs for current, full-time employees.