Hospitality includes telling you all you need to know about us. We invite you to explore South Carolina for yourself, and see why it's a great state for business. Get to know our skilled workforce, growing economy and business climate through The SC Economic Outlook monthly publication. Learn about our population, infrastructure and more using regional maps.
Overview of South Carolina
Economic Outlook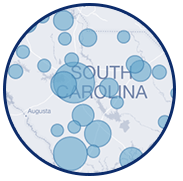 Inform SC – Performance Matrix & Map
View Performance
Key Indicators
$284.4 billion
State Personal Income, first quarter of 2021
Increased from first quarter of 2021
+14.9%
2,210,350
Nonfarm Employment
143.83
South Carolina Stock Index is on hiatus. Last closing was at 143.83, on June 12th, 2020.
Month-over-month. Index is on hiatus.
NA
43.1
Manufacturing Weekly Hours
92,200
Available Online Job Postings
$280,770
Median Single-Family Home Sales Price
4,276
Residential Building Permits
Source: August 2021 Economic Outlook
Major Industries (by 2020 Employment)
Source: US Department of Labor Bureau of Labor Statistics