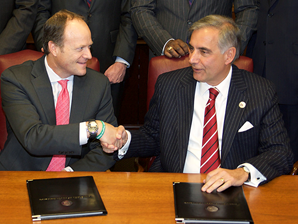 American entrepreneur Henry Ford once said, "If everyone is moving forward together, then success takes care of itself." Referring to the importance of teamwork, Ford's statement is certainly applicable to the Palmetto State. 
Over the last several decades, South Carolina has thrived, transforming from a state focused predominantly on agriculture, textiles and tourism into one that is now home to advanced, high-tech industries. From premium automobiles and wide-body commercial aircraft to home appliances and pharmaceuticals, some pretty remarkable things are being produced here.
To ensure that South Carolina remains on the cutting edge, we must tap into the great resources we have in our state. One such resource is our higher education system and, specifically, the University of South Carolina (USC). Not only is USC developing the workforce of tomorrow, the school is also using the brainpower of its student population to cultivate new ideas and technology for some of the world's leading companies.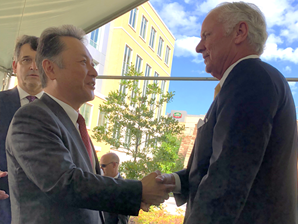 Recognizing the importance of these efforts, USC today announced new and expanded partnerships with industry heavyweights IBM, Samsung, Siemens and Yaskawa. Pictured to the left is Governor Henry McMaster with Yaskawa Executive Officer, General Manager Masahiro Ogawa. A major win for innovation and economic development in South Carolina, these partnerships will allow the Palmetto State to elevate itself even higher on the global industrial stage. The new agreement with IBM, specifically, makes USC one of the company's official Internet of Things research labs.
These announcements were part of a ceremony, which celebrated the opening of the school's new Digital Transformation Lab. Located at USC's McNAIR Center, the 15,000-square-foot facility will serve as a research showplace where projects with an array of real-world industrial and consumer applications are on display, including robotics, visual inspection, autonomous drones, smart home appliances and more.