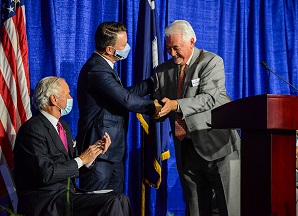 Agribusiness made headlines across South Carolina and beyond this week, as the Agriculture Technology Campus announced plans for a state-of-the-art 1,000-acre agriculture campus in Hampton County. The Agriculture Technology Campus is a joint venture project between Mastronardi, Clear Water Farms, LiDestri Food and Drink and GEM Opportunity Zone Fund. The combined $314 million investment is expected to create more than 1,500 new jobs over the next five years. 
The Agriculture Technology Campus will include greenhouses for locally grown, pesticide-free tomatoes, leafy greens, blueberries and other produce; a 150,000-square-foot distribution center; and a co-packing facility. This announcement marks one of the largest agriculture investments in South Carolina history. 
Click here for complete announcement details. Click here to watch the streaming press conference announcing the exciting project.