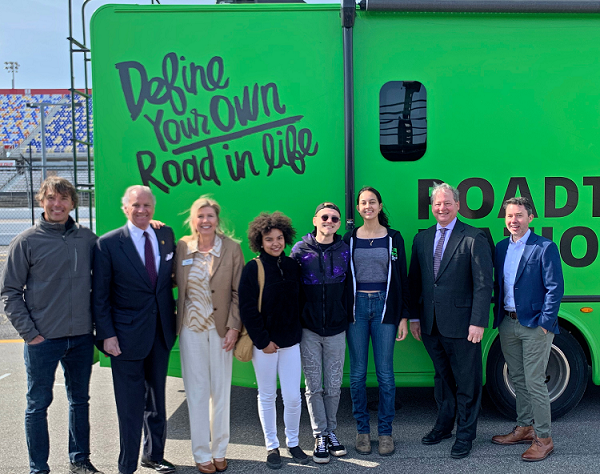 S.C. Commerce sped to Darlington Raceway to welcome Roadtrip Nation's famous green RV on Tuesday, March 29. 
The South Carolina Roadtrip Nation Kick-Off Event gathered state officials and workforce development partners, including Governor Henry McMaster, Secretary of Commerce Harry M. Lightsey III, Roadtrip Nation President and Co-Founder Mike Marriner, TALLO Co-Founder and CEO Casey Welch and South Carolina Council on Competitiveness President and CEO Susie Shannon. 
Roadtrip Nation selected three South Carolina students to participate in the three-week, multi-city journey, where the young people tour the state interviewing professionals across multiple industries. In meeting with the business owners and executives, the students learn more about existing and potential career opportunities and the education necessary to get there.
The full journey is currently being filmed and will be broadcasted nationwide on public television this fall. 
Accompanying the South Carolina Roadtrip, all South Carolinians are invited to complete a career profile and share their career journey via the South Carolina Share Your Road online portal. There is no fee or qualification to participate, and profiles are available to thousands of students around the state.
Click here to find out more about Roadtrip Nation.