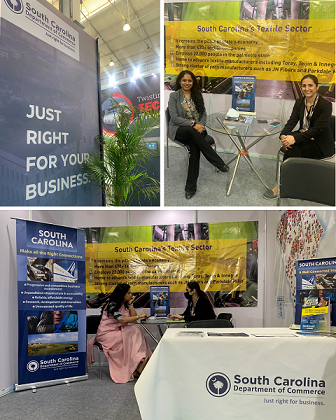 Team South Carolina was on the ground in Mumbai November 25 – 27, showcasing South Carolina's textile industry at Techtextil India 2021. The event is India's leading technical textiles trade show and exhibition, also serving as a business matchmaking event for companies looking to grow their business operations. 
S.C. Department of Commerce India representatives were onsite at the Bombay Exhibition Center, meeting with company representatives and showcasing the many benefits of locating in the Palmetto State.
The textile industry has a long and rich history in South Carolina, emerging as home to one of the nation's largest textile economies in the early 20th century. While the industry has evolved thanks to modern innovations, it still plays a leading role in South Carolina's economy. 
Today, technical textiles include nonwoven materials, as found in numerous home goods and medical materials, high-performance polyester fiber and carbon fiber. Technical textile producers in South Carolina today support industries like aerospace, automotive and defense.
The hybrid event highlighted a return to face-to-face meetings, raising South Carolina's visibility to thousands of attendees, virtually and in-person, from around the world.