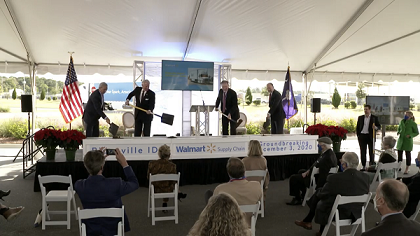 Construction is officially underway at Walmart's new $220 million distribution center in Dorchester County. Officials from the state, Walmart, the South Carolina Ports Authority and the county gathered last Thursday (socially distanced) to celebrate the groundbreaking of the 3 million-square-foot direct import distribution facility that will be located in the Ridgeville Industrial Campus. The new operation will create more than 1,000 jobs. 
The distribution center, which was first announced in July, will utilize the Port of Charleston to supply several regional distribution centers and support approximately 850 Walmart stores and Sam's Clubs across South Carolina and beyond.
Construction is expected to take 14 months. 
Click here to watch the groundbreaking ceremony.