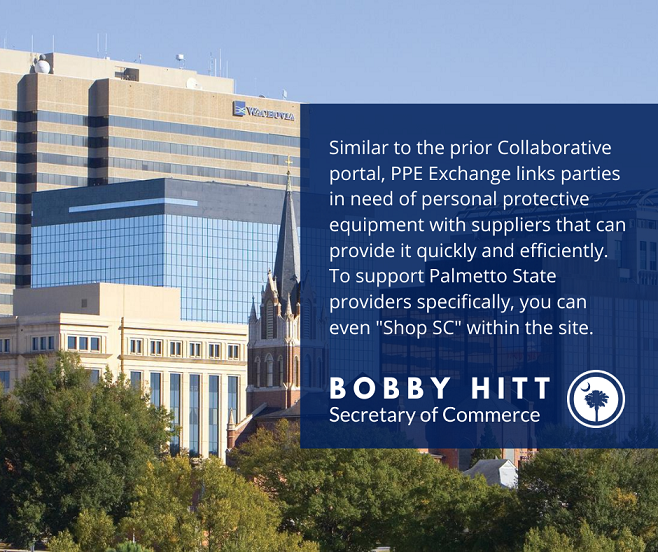 Access to personal protective equipment (PPE) in the COVID-19 era continues to be critical to the health and safety of healthcare professionals, frontline workers and all South Carolinians in the workplace and our daily lives. To help connect companies that provide these life-saving products with the medical providers and businesses across the Palmetto State that need them, the SC Emergency Supply Collaborative - a partnership between S.C. Commerce, SCMEP, SC Hospital Association and SCBIO - has taken a giant leap forward. 
The Collaborative has joined forces with the national team at PPE Exchange - an online marketplace of regional and national PPE suppliers - to provide a dramatically expanded and fully automated resource for these essential products. Through the site, hospitals, health care providers and businesses seeking PPE are virtually connected to a marketplace of already-verified suppliers.
Similar to the prior Collaborative portal, PPE Exchange links parties in need of personal protective equipment with suppliers that can provide it quickly and efficiently. To support Palmetto State providers specifically, you can even "Shop SC" within the site.
This new resource is yet another tool in South Carolina's collective approach to ensuring we keep ourselves and our communities safe - as we all work together to help prevent the spread of COVID-19.