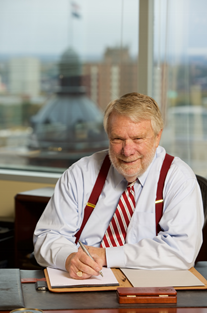 In economic development, it's no secret that companies locate where they feel they can be profitable and have success. Because we operate in such a globally-connected economy, a critical component toward achieving this success is being able to efficiently reach important business markets worldwide. 
This week, South Carolina's ability to offer connectivity to global markets took a major step forward as British Airways announced plans for non-stop air service between London's Heathrow Airport and the Charleston International Airport. The twice-weekly flight, slated to start in April 2019, marks the first direct trans-Atlantic flight from the state of South Carolina. 
To put it simply, this announcement is a game changer. With these new flights, the Palmetto State will be able to offer connectivity to Western Europe, enhancing the marketability of South Carolina as a top destination for international business. More specifically, this new air service will strengthen the state's position as a major player for headquarters facilities and other office operations. Those facilities often need their workers to be mobile with access to other major business points around the world.
For centuries, the state's seaport infrastructure has connected South Carolina-made products with international customers. Now, with these new flights, our business leaders will be able to enjoy similar connectivity; and, as a result, the South Carolina economy will continue to thrive for years to come.