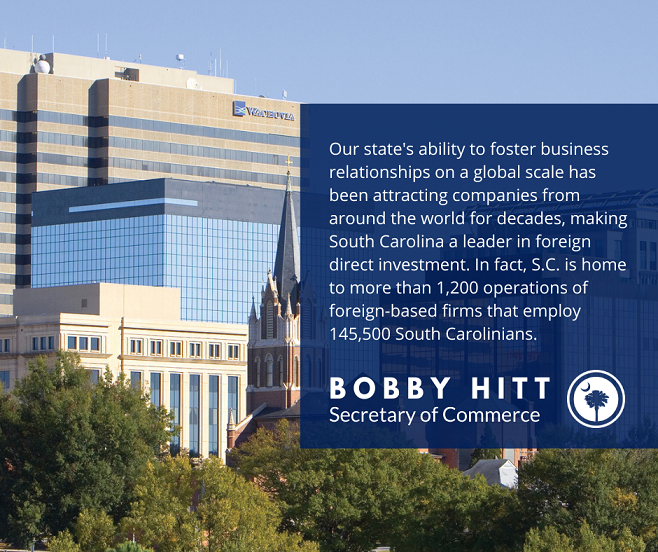 "Succeeding in business is all about making connections." That quote by business tycoon Sir Richard Branson exemplifies Team South Carolina's approach to economic development, particularly in the international arena. To maintain our prominence in world markets, Team S.C. prioritizes opportunities to build relationships with industry executives and showcase all the Palmetto State has to offer. 
Our state's ability to foster business relationships on a global scale has been attracting companies from around the world for decades, making South Carolina a leader in foreign direct investment. In fact, S.C. is home to more than 1,200 operations of foreign-based firms that employ 145,500 South Carolinians. 
While COVID-19 has thrown the world a curveball in terms of business, S.C. Commerce's international recruitment efforts remain steadfast. With an adjusted, more virtual approach, we are aggressively pursuing new partnerships and ways to continue to grow our global connectivity. 
S.C. Commerce is currently hosting virtual recruiting missions in France, Italy, Korea, Spain, Taiwan and the United Kingdom and recently wrapped up missions in Canada and Japan. These online events offer opportunities for customized meetings between our team, industry stakeholders and companies looking to expand into the U.S.
Team S.C., in collaboration with our statewide partners, has also hosted several recent virtual investors meetings around the world. Highlighting various sectors including agribusiness, automotive and chemicals, these online sessions are another example of our modified approach to keep the Palmetto State top of mind as a destination where international companies can find success.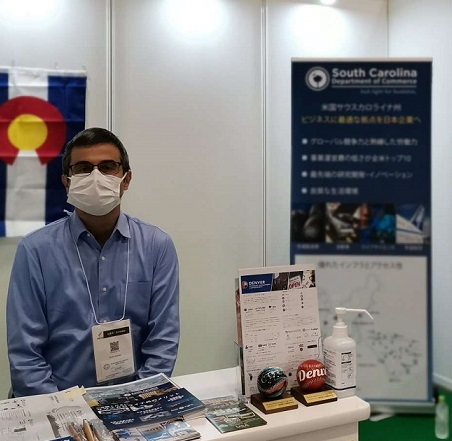 South Carolina has a global network with foreign representatives in China, Germany, India, Japan and South Korea. Having boots on the ground in these markets assists our recruitment efforts, some of which are now moving face-to-face. Just recently, the S.C. Commerce Japan team represented the state at the Japan Drone 2020 Expo. 
The coronavirus pandemic may have altered the way we make connections, but Team South Carolina is still building successful relationships abroad. Moving forward, we will continue to grow our winning ways, remaining a top international destination for years to come.