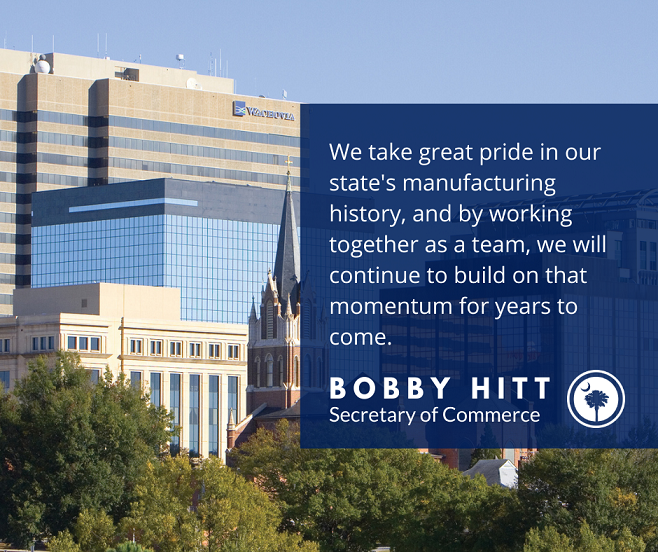 South Carolina is a leader in the manufacturing renaissance. Over the last nine years, we've seen manufacturing employment growth of more than 21%, with more than 255,000 South Carolinians working within our state's diverse manufacturing sector. From premium automobiles to wide-body aircraft, S.C. produces some of the most complex products in the world.
To continue the advancement of our manufacturing industry, the South Carolina Manufacturing Conference and Expo, which took place virtually last week, highlighted the latest trends and insights from industry leaders. The conference, presented by the South Carolina Manufacturing Extension Partnership, SC Biz News and the South Carolina Council on Competitiveness, is still available online with free registration, and features on-demand keynote addresses, conversations with manufacturing CEOs, a virtual vendor expo and more. 
During the conference, the SC Council on Competitiveness released its 2020 SC Aerospace Study, which highlights our state's increasingly diverse aerospace supply chain, strong wages and growing workforce. The study reveals that aerospace is a major driver of our state's economy, employing more than 136,000 South Carolinians (direct and indirect) and contributing $14.3 billion to S.C.'s gross domestic product. 
Additionally, the 23rd annual Manufacturing Excellence Awards recognized 30 S.C. companies for manufacturing greatness. And, new this year, a group of special awards was created to celebrate companies that pivoted operations and overcame extraordinary circumstances related to the coronavirus pandemic.
While this year looked a bit different, and we didn't have the opportunity to meet in-person, the connections and relationships built through events like the South Carolina Manufacturing Conference and Expo are key to remaining an industry powerhouse. 
We take great pride in our state's manufacturing history, and by working together as a team, we will continue to build on that momentum for years to come.