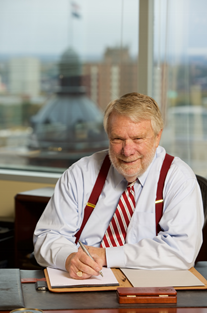 In South Carolina, we make things. A global leader in manufacturing, we've experienced manufacturing job growth of more than 16 percent since 2011; and, last year alone, 41 different manufacturers announced expansions within our borders. Our ability to make products is only half the story, however. To have a truly successful economy, efficiently and effectively transporting those products to market must also be a top priority. And, in South Carolina, it certainly is.
The Palmetto State offers exceptional global connectivity. From our innovative and rapidly-growing port infrastructure to our robust logistics network, South Carolina-made products are exported to more than 180 countries each year. Despite this success, Team South Carolina continues to push forward to ensure that we're providing our existing industries with logistics assets that are unparalleled. 
In that vein, a new partnership was announced this week between the state of South Carolina and the Fraunhofer Institute. Aimed at creating a unified, cloud-based platform to support South Carolina industry and logistics providers, the project will be achieved by collaboration between the University of South Carolina, Fraunhofer USA and two Palmetto State firms -- Datos Consulting and G&P Trucking. The new platform will provide a variety of services to logistics companies, including: optimization of business processes; real-time decision making, risk management; and cybersecurity and privacy enforcement. 
Reflecting our continued commitment to advancing the state's burgeoning logistics sector, this collaborative effort is significant, and I look forward to seeing its impact as South Carolina remains on the cutting edge of this important industry.