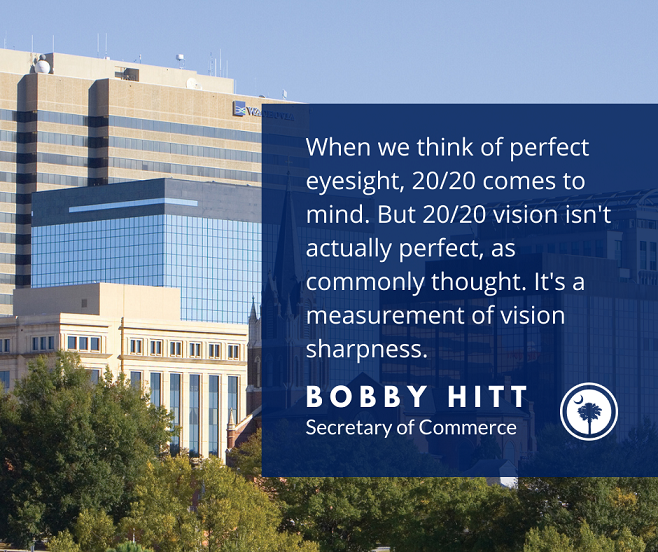 When we think of perfect eyesight, 20/20 comes to mind. But 20/20 vision isn't actually perfect, as commonly thought. It's a measurement of vision sharpness.
Just like 20/20 vision, the year 2020 has not been perfect. But the two draw several parallels in what's important in sight and maintaining vision.
Difficult as it has been and continues to be, the challenges faced this year from COVID-19 have in many ways enhanced our view on life, relationships and business. We've learned to be more flexible and adaptable to change on a considerable scale. And, there are many reasons for a sense of optimism.
From an economic perspective, even with the COVID-19 hurdles, Team South Carolina continued to demonstrate that we can successfully recruit and grow industry in all corners of our state. In recent months, we've announced several major investments within our borders that will create thousands of jobs for South Carolinians.
Throughout the year, Team S.C. adapted to new ways of meeting with prospective companies; showcasing our marketable sites; supporting our existing industry; and helping facilitate international trade. It was this ability to pivot that helped maintain our state's competitive economic development efforts.
And, I would be remiss if I did not take the opportunity to commend our state's manufacturing community for stepping up to help in the fight against the coronavirus this year. S.C. companies demonstrated an unwavering commitment to not only overcoming the obstacles associated with COVID-19, but doing it with an emphasis on safety. Many manufacturers in the Palmetto State were leaders in their communities for safety - producing much-needed personal protective equipment and helping lead the charge in developing safety protocols.
While the coronavirus upended our way of doing business, our focus remains clear - that through our collaborative work, Team S.C. can increase the quality of life for our residents by expanding opportunities.
American entrepreneur Malcolm Forbes once said, "The best vision is insight." And the insight we've gained in 2020 will help keep our vision of a bright and clear future sharply in focus.