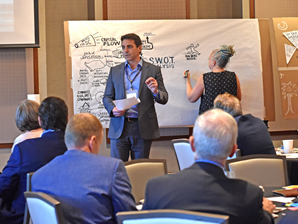 When many intelligent people are gathered in one place, good things are bound to happen. That was the driving force behind the Office of Innovation's recent Innovation Rally event. Hosted by the state's 14-member Council for Innovation Initiatives, the interactive day provided a forum for members of South Carolina's innovation community to share creative solutions for the future of the industry, while also providing impactful connectivity.
In addition to the 14 council members, more than 50 additional stakeholders were invited to participate in the event. Among them were leaders in military, academia, industry, research and more. Together, the group completed a SWOT analysis, which predominantly tackled two critical topics: capital flow and workforce retention.
To successfully address both of these topics, one thing is paramount – ongoing collaboration. That's why the council is planning to host these rally events bi-annually. Although the date of the next meeting is still to be determined, the council is already seeking recommendations for additional stakeholder participation. If you know someone who would be a good fit to take part in these discussions, submit their name by clicking here.
Moving forward, as the Office of Innovation continues to ramp up activities and implement items discussed at last week's meeting, a true online engagement platform is being developed. As part of this effort, the office is producing a South Carolina innovation video series. To nominate an individual to be featured in the series, click here.