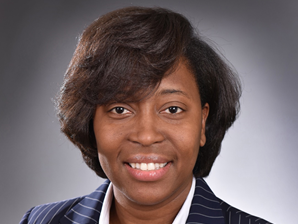 In an effort to provide readers with a more personal, inside look at the people who make up our team here at S.C. Commerce, we're excited to continue our 'Getting to Know' series. Featuring interviews with various members of the agency's staff, we hope this segment offers a unique perspective from some of the state's top economic developers.
In this week's addition, we spoke with Ashely Teasdel, S.C. Commerce's director of Business Services -- a division which houses several of the agency's important programs, including Recycling Market Development, Small Business Development, Supplier Development and Outreach and Existing Industry. 
Q:  Previously, you worked at BB&T, serving small businesses for a few years. How did that experience prepare you for your time here at S.C. Commerce?
A: The start of my professional career in banking was a major catalyst to understanding businesses and their needs. The benefit of being a small business banker afforded me the opportunity to provide analysis to current and prospective client needs, as well as best options, working with the client to determine optimal solutions.
Q:  South Carolina's large industry partners often get the most headlines, but you understand the importance of small and medium-sized firms to the state's economy. How can South Carolina's existing smaller firms tap into the opportunities created by the large firms located here?
A: South Carolina small businesses, the backbone of our economy, represent 97 percent of all employers and employ 48 percent of the private sector labor force in the state. There are several ways to tap into opportunities here in South Carolina, such as being a part of our SourceSC program, which is used to connect South Carolina firms with sourcing opportunities across the state. Participating in industry business-to-business events is another way for companies to engage with larger firms. This platform allows for one-on-meetings to take place in order for a smaller company to share their capabilities and services with larger, original equipment manufacturers and tier one suppliers. 
Q:  What are some aspects of your new role as director of Business Services that inspire you the most?
A: In this new role, I'm most looking forward to exposing more companies to the suite of services that our Business Services division can offer a company. The division is made up of skilled relationship managers ready to assist a company with needs ranging from recycling, supplier development, workforce support, small business resources and much more. Navigating through the business ecosystem can be quite daunting when you have an immediate need, so bringing more awareness will help companies understand we are a gateway to the help they are looking for. 
Q:  What's your one-year vision for the Business Services division? What do you hope to achieve over the next 12 months?
A: The one-year vision for Business Services is to consistently provide efficient services and resources to help companies succeed. Over the next 12 months, the focus will be on delivering superb customer service; striving to improve the quality of companies; and, ultimately, being able to share successes and impact driven from the relationships fostered and connections made across the state. 
And, on a lighter note:
Q: What book, movie or TV show could you not do without? 
A: The Notebook.
Q:  What's the best concert you've ever attended?
A: I'm not a big concert fan, but the best Broadway show I've attended is "The Lion King!"