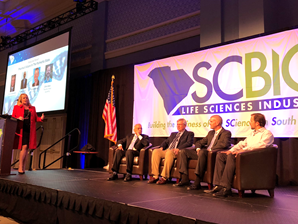 This week, hundreds of life sciences industry executives, government officials and education leaders descended on Charleston, S.C. for SCBIO 2018. Featuring speakers such as Biotechnology Innovation Organization President and CEO Jim Greenwood, Secretary of Commerce Bobby Hitt and University of South Carolina President Harris Pastides, the annual event is aimed at advancing this burgeoning industry across the state.
Over the last few years, life sciences seems to have taken off in South Carolina, joining the automotive, aerospace and agribusiness sectors as major pillars of the state's economy. In fact, from 2011-2017, life sciences firms announced approximately 4,100 new jobs in South Carolina. And, today, the sector has ballooned to include more than 400 companies and has an annual economic impact of approximately $11.4 billion on the state.
"The life sciences industry is the newest emerging sector in South Carolina," said South Carolina Biotechnology Industry Organization (SCBIO) President and CEO Sam Konduros. "Our mission is to build, advance and grow this industry."
Upon taking the stage to discuss the state's ongoing effort to grow this sector, Secretary Hitt was awarded with SCBIO's Hall of Fame award.
"Teamwork is what gets us where we need to be," said Hitt. "I can say that our joint efforts are paying significant dividends here in South Carolina."
For more on South Carolina's life sciences industry, click here.