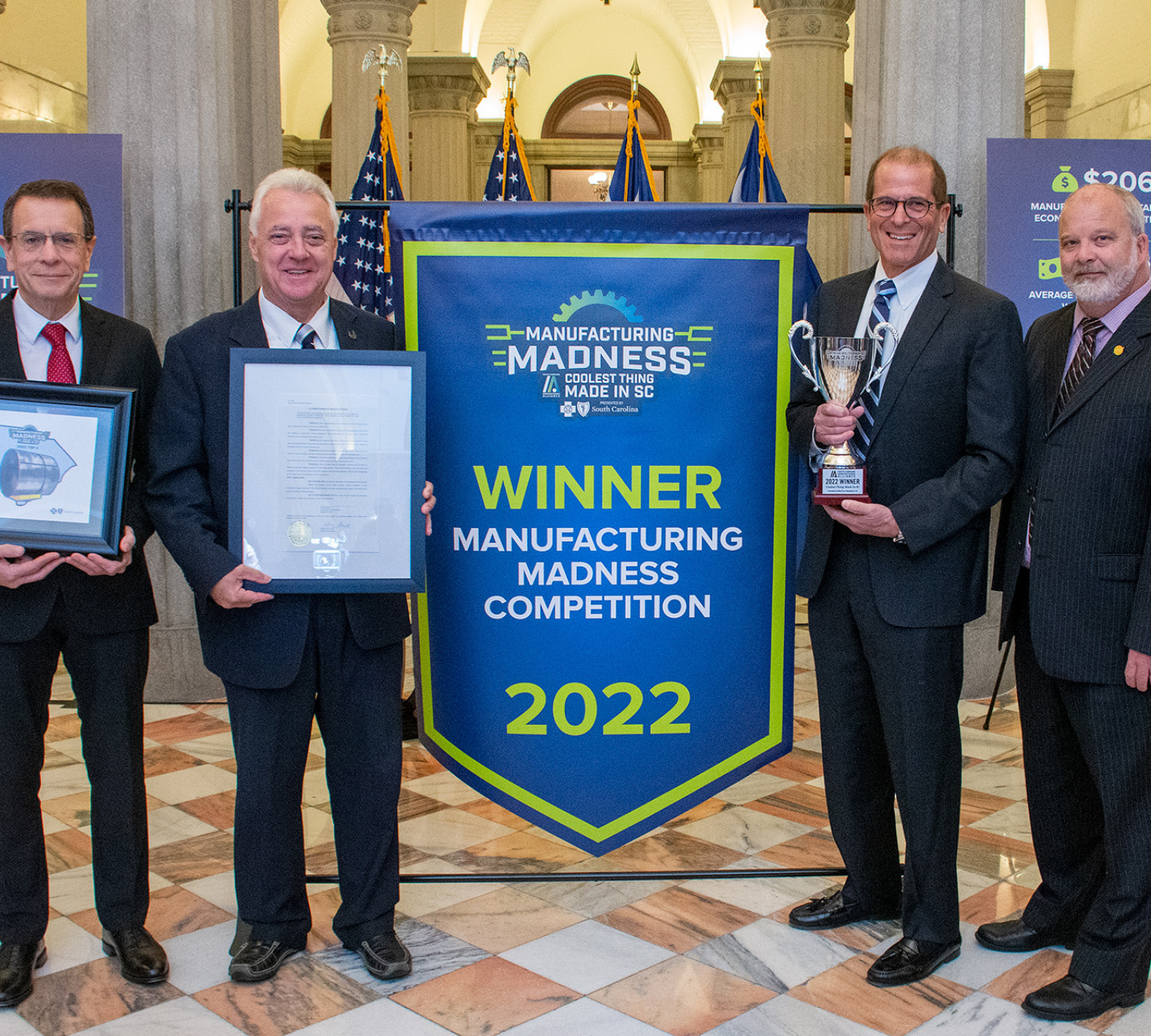 The votes are in! The South Carolina Manufacturers Alliance has announced the winner of its Manufacturing Madness contest, and Nucor Steel Berkeley is taking home the bragging rights. 
Nucor Steel earned the most votes in the final round of the inaugural contest, presented by BlueCross BlueShield of South Carolina. Nucor Steel Berkeley, which operates a manufacturing facility in Huger, was recognized as the winner of the contest at a heavily attended event at the State House on Wednesday. 
Nucor Steel's manufacturing facility in Huger opened in 1996. The company makes sheet and beam steel products for a wide range of industries including agriculture; automotive and appliance; construction; energy generation and transmission; oil and gas; heavy equipment; and infrastructure and transportation. The company also is a significant recycler, turning scrap metal into 3.5 million tons of steel annually. In addition, the Berkeley County plant's greenhouse gas emissions are less than half the average for all global steel manufacturers. 
The competition's other three finalists included the F-16 Fighting Falcon manufactured by Lockheed Martin in Greenville, Electrolux and Frigidaire's Single-Door Refrigerator and Freezer made at its facility in Anderson and the Honda Talon 1000 X-4 made by American Honda Motor Co., Inc. South Carolina Manufacturing in Timmonsville.
The four top products advanced to the final round after a nearly two-month contest that started with 175 products being nominated. The general public was invited to select their favorite products from that initial list, with the top 16 vote-getters advancing into the Manufacturing Madness bracket. From there, weekly voting trimmed the field in half until voters selected the winner from the final group of four products. More than 110,000 total votes were cast during the competition.