SourceSC
Start Up

Globalize

Grow

Join the Community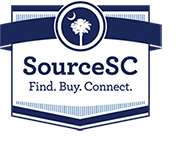 Even though today's global economy offers limitless sourcing options, we believe South Carolina offers some of the finest vendors in the world. The SourceSC locator program is a convenient way to source local materials and service providers, connecting South Carolina companies with in-state suppliers and vendors.
How can SourceSC benefit your company?
Find. Buy. Connect. Whether your business is large or small, new or existing, SourceSC can connect you with a dense in-state supplier network, as well as products and vendors who can help you:
Improve efficiency
Manage supply chain activities
Lower operation and freight costs
Reduce supplier delivery times
Improve business relations with suppliers
For Suppliers and Vendors
To connect your company with buyers in South Carolina, please make sure your company listing is up-to-date. 
For Buyers
Let us connect you with South Carolina suppliers. Contact the SourceSC program manager via email or call 803.737.0585 for help connecting with the appropriate suppliers
Interested in being a potential supplier or vendor to Volvo Car?