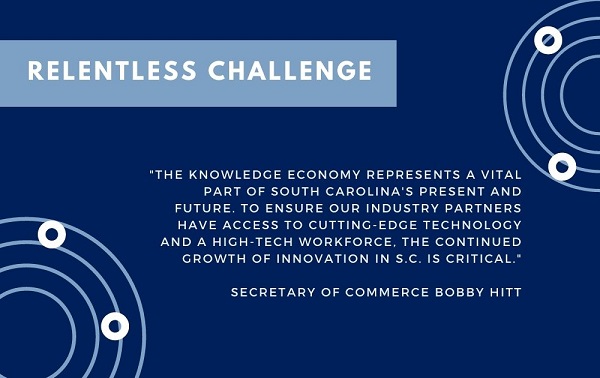 The South Carolina Department of Commerce Office of Innovation has awarded $670,000 in funding to 14 organizations across the state as part of the Relentless Challenge grant series. With the mission of progressing and supporting technology-based economic development projects, commercialization of new ideas and the next generation of industry-leading companies, the Relentless Challenge targets strategic investments in localized initiatives.
"The knowledge economy represents a vital part of South Carolina's present and future. To ensure our industry partners have access to cutting-edge technology and a high-tech workforce, the continued growth of innovation in S.C. is critical," said Secretary of Commerce Bobby Hitt. "Congratulations to these 14 awardees, and we look forward to all they'll achieve in the years to come."
Relentless Challenge grants are a pillar of the Office of Innovation, connecting the state's people-driven ecosystem through resource development to support the business community in its relentless pursuit of transformational ideas.
Projects commence in early 2021. Click here to learn more about the 14 grant recipients. 
Since 2013, the S.C. Commerce Office of Innovation has awarded more than $7 million in local innovation projects to 41 organizations.
Previous Awardee Spotlight
In 2017, Venture Carolina partnered with S.C. Commerce and the Appalachian Regional Commission to create a sustainable risk-capital marketplace through education. This included the formation of the Venture Carolina Pitch Lab,  a venue where entrepreneurs can connect with actual investors and enhance their ability to raise capital. Outfitted with high-end audio, video and lighting equipment, as well as livestreaming video functionality, the facility is used in a number of ways. It acts as a dedicated location for entrepreneurs to obtain real-time feedback on pitch delivery. Venture Carolina also uses the facility to host regular educational workshops, virtual investor screening meetings and virtual facilitation of due diligence between entrepreneurs and investors. 
To learn more about the Relentless Challenge grant series, contact Julie Kunkle.