SC Commerce has developed an Export Incentives Program to assist small- and medium-sized businesses entering new markets or wishing to increase their exporting activities.
In the past six years, these two programs have generated $101 million in export sales. We have helped South Carolina companies sell products to 195 countries and territories around the world.
Eligible companies are reimbursed for specific export-related expenses through the State Trade Expansion Program (STEP) or the South Carolina Opportunities for Promoting Exports (SCOPE) program.
Awards will be based on funds available, the number of applications submitted and the strength and completeness of the applications. Applications will be disqualified if a company has received an award for the same previously-funded activity, has not reported export sales from previous awards or if receiving funding from another source for the same activity. For additional information, please contact the International Trade Manager.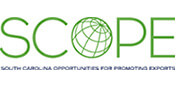 Funded in part through a grant with the US Small Business Administration. All opinions, conclusions and/or recommendations expressed herein are those of the author(s) and do not necessarily reflect the views of the SBA.